Description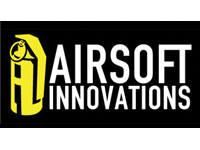 Airsoft Innovations 40 Mike Double Pack
Features
Most powerful 40mm Airsoft shell to date
Launches 150 BBs in 1/3rd of a second!
Extreme 100ft range
Consistently fires 240 FPS per BB
The 40 Mike is the MOST POWERFUL 40mm gas shell ever made! It features an unparalleled 100ft range, 150BB capacity, and fires every shot at 240fps – using Airsoft Innovations patented Quantum Drive Technology – with the highest energy output ever seen in a 40mm gas shell.
Velocity: 240 FPS per BB
Gas type: Propane, Green Gas, Duster
Capacity: 150 rounds
Material: Injection molded polymer, aluminum alloy
Please ensure that you only use Green Gas, and Lubricated Propane to power your grenade. Do not use: Co2, HPA, NUPROL 3.0, or NUPROL 4.0 as this can damage the system due to their higher powers.  To lower the FPS of your 40 Mike, then you can always use 144a Duster Gas, or NUPROL 1.0. It may be worth having some spare just in case your Gaming Site requests this.
Manufacturer: Airsoft Innovations